Concept Vinyl

Various artists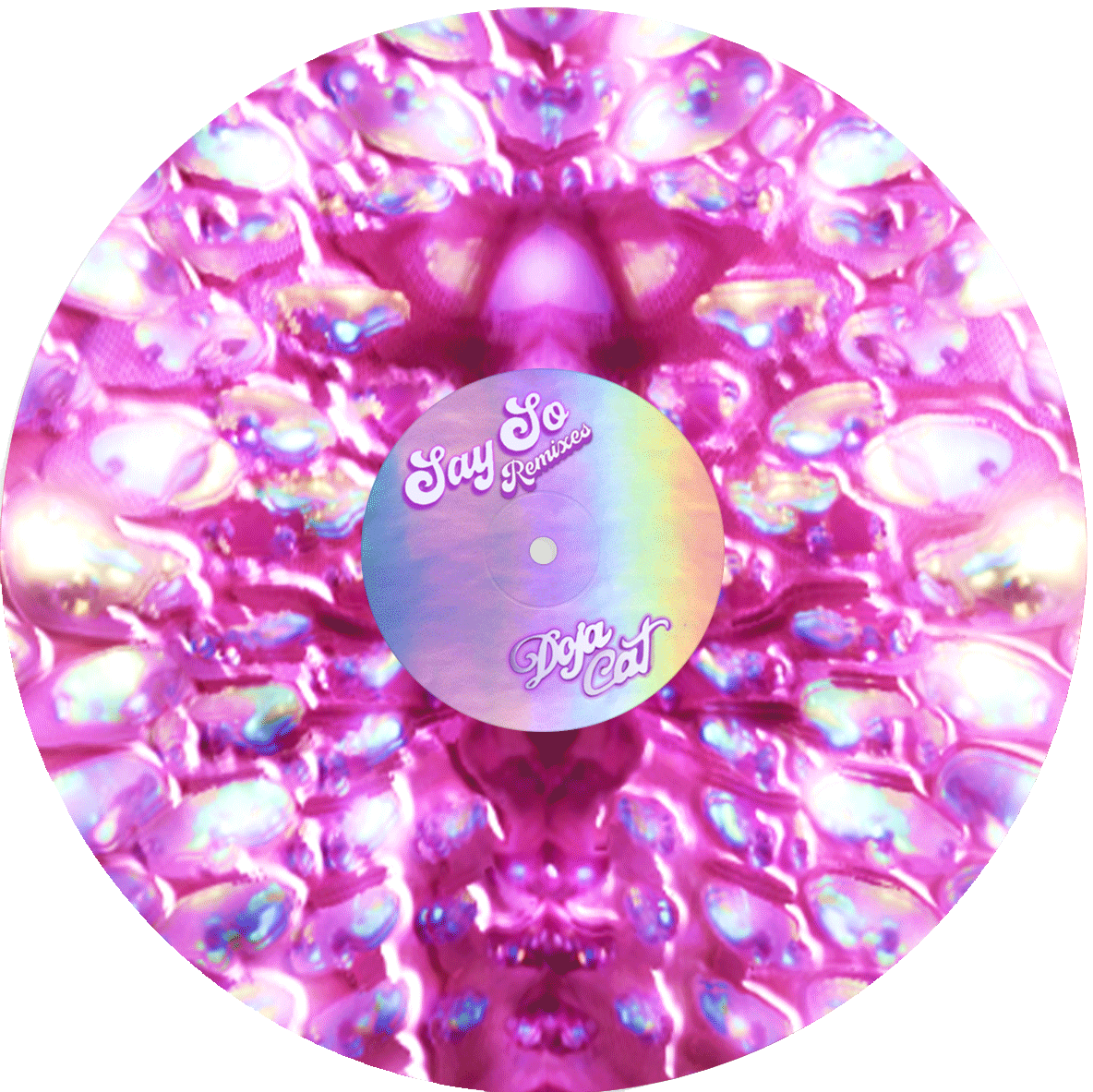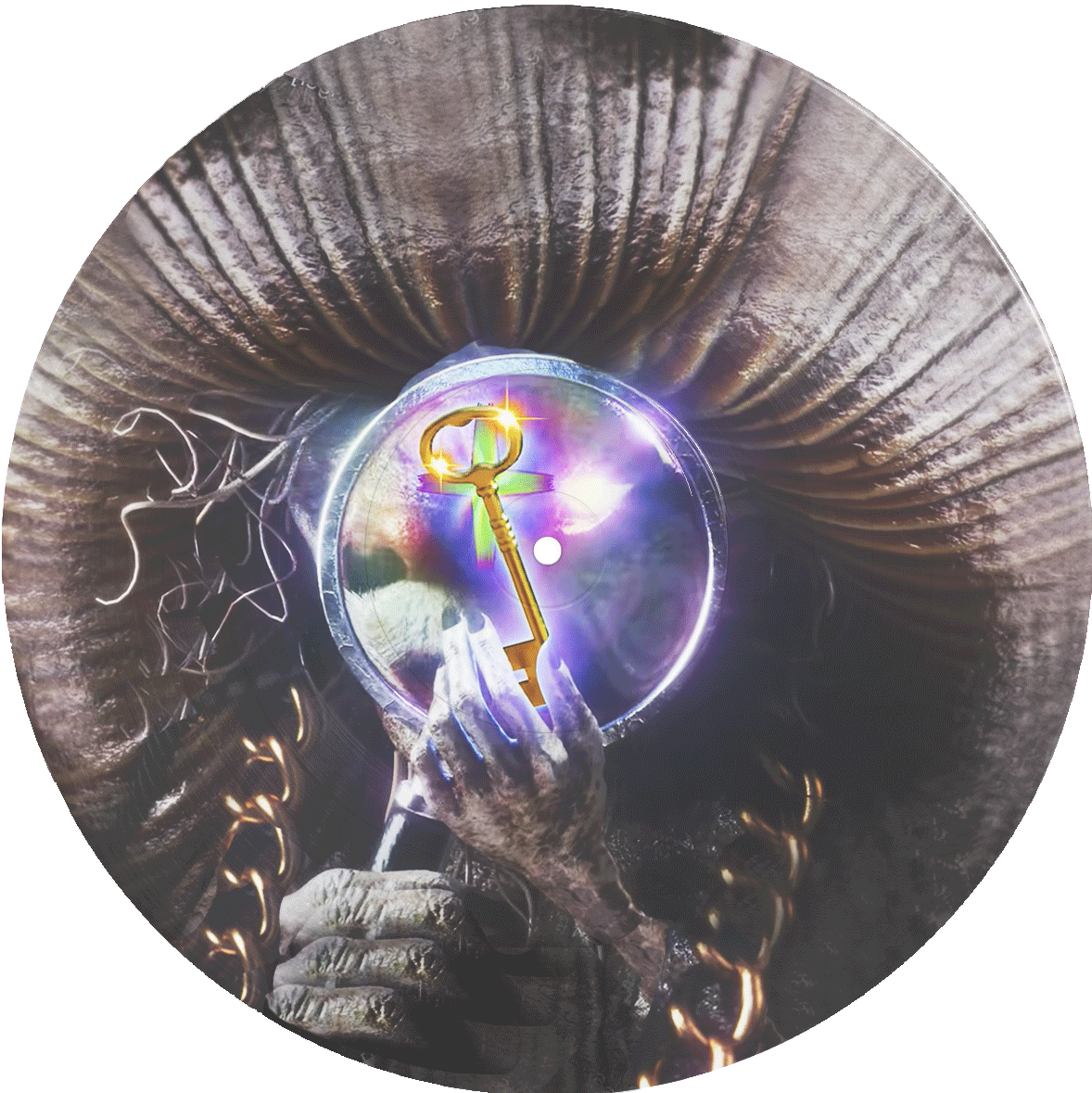 Layouts
This is my passion project! I love music more than anything and the artists that have taught me so much.
Majority of these are vinyl concepts, typically featuring cover, gatefold, vinyl art, and extra stuff. Much of my process goes into researching the artist, the marketing, and the music video (if applicable).
All albums (excluding MGK) were completed in a one week design sprint (6 days total, 0.5-1.5 days per album. This included market research, image curation, color correction, and final execution).
I usually managed 1-2 projects at once, and produced six album concepts at the end of the week.
*These are fanmade concepts. No copyright infringement intended. All imagery belongs to their respective owners.
Index
Doja Cat
Ariana Grande

EDEN

Harry Styles

Simple Creatures (Blink 182's Mark Hoppus, and All Time Low frontman Alex Gaskarth)
100 gecs
Machine Gun Kelly
Here's a playlist to listen to while you view. Enjoy!
---
My Process
Maybe it's the web designer in me, but I love creating microinteractions in the packaging and interplay between the elements. Ex: Harry Styles "Watermelon Sugar" (pictured right).

I usually design for the theme first, deciding on one element/adjective, then build the overall composition from there. I call it conglomerate design thinking, where every element is distinct, yet forms the cohesive whole.

Ex: The 100 Gecs' "Hand Crushed by a Mallet" remix features a 3D video game in the music video. So, I translated that into the design by creating layers through diecuts and embossing. Since the characters in the video are chasing each other, that also included creating sliding card design in the gatefold, so that the characters slide to the left as you open it.

Sometimes, the theme isn't always obvious. Ex: I always thought of Doja Cat as a sensual person with lots of interesting textures in her outfits and backdrops. So, for her "Say So" album, I wanted to bring the textures to life and used a lot of embossing to give the album dimension and mirror part of Doja's branding.

I also value how the vinyl looks when it spins and tailor its design towards the concept. Ex: EDEN's "Good Morning" music video features upside down imagery, and sometimes you can't tell which way is right side up. So, I wanted the vinyl to resonate with that (pictured right).
Examples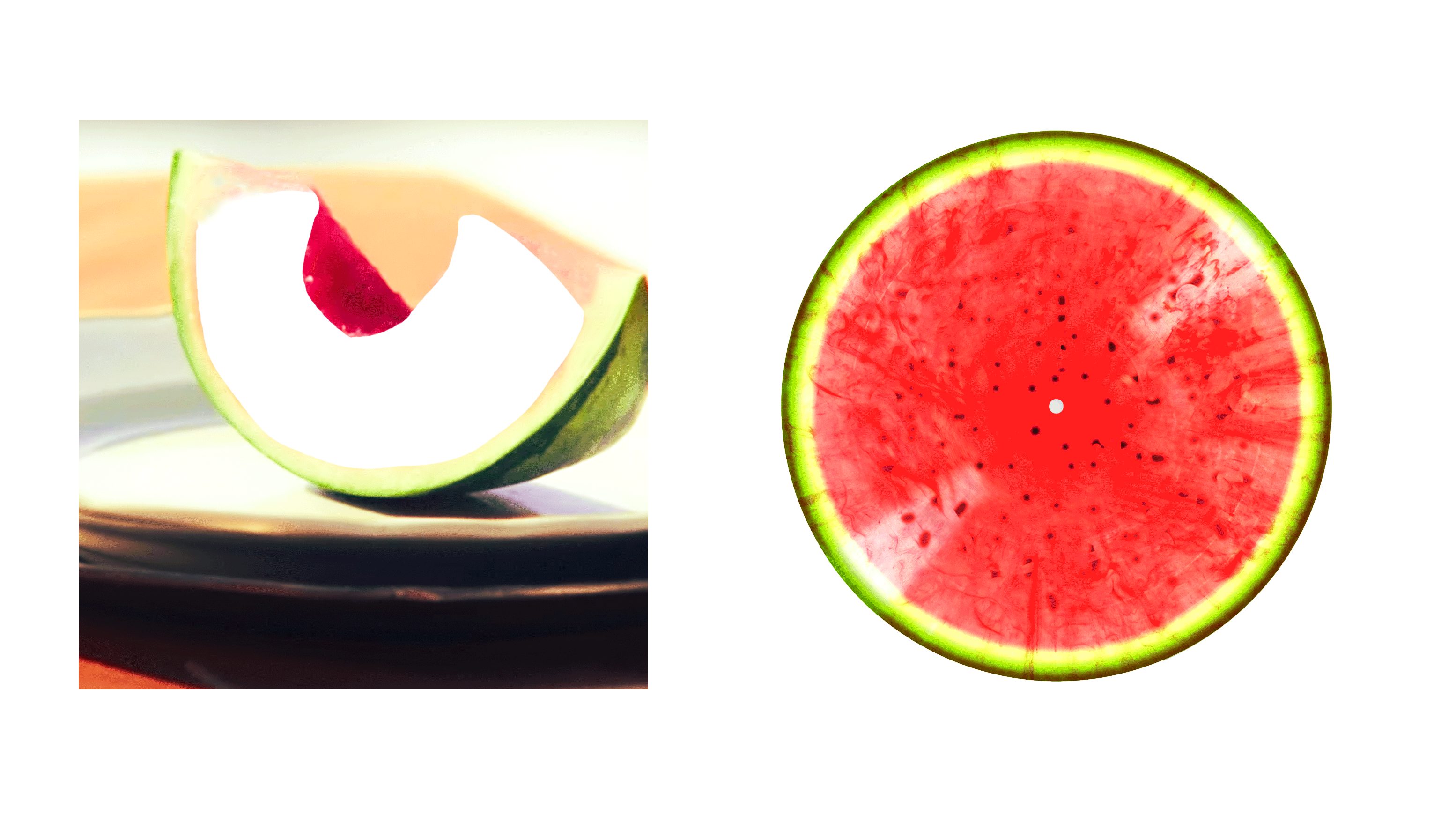 Harry Styles
"Watermelon Sugar"
There's a watermelon cutout in the sleeve, so it's a fun, seamless interaction when you slide the vinyl in/out.
EDEN
"Good Morning"
---
Doja Cat

"Say So" Remixes
Concept based on Doja Cat's VMAs outfit and creating a sensual, textural vinyl concept.

Cover has a holographic sticker, and the typography in holo silver, along with the shiny parts of Doja's outfit.
Album features
1 x LP tricolor marble vinyl
Inner sleeve
Poster with Embossed lyrics on reverse side
Embossed gatefold
Stickers
Face Jewels
View case study ︎︎︎
Album cover, sleeve, vinyl
Extras: stickers + face jewels
Full layout
---
Ariana Grande

"k bye for now (swt live)"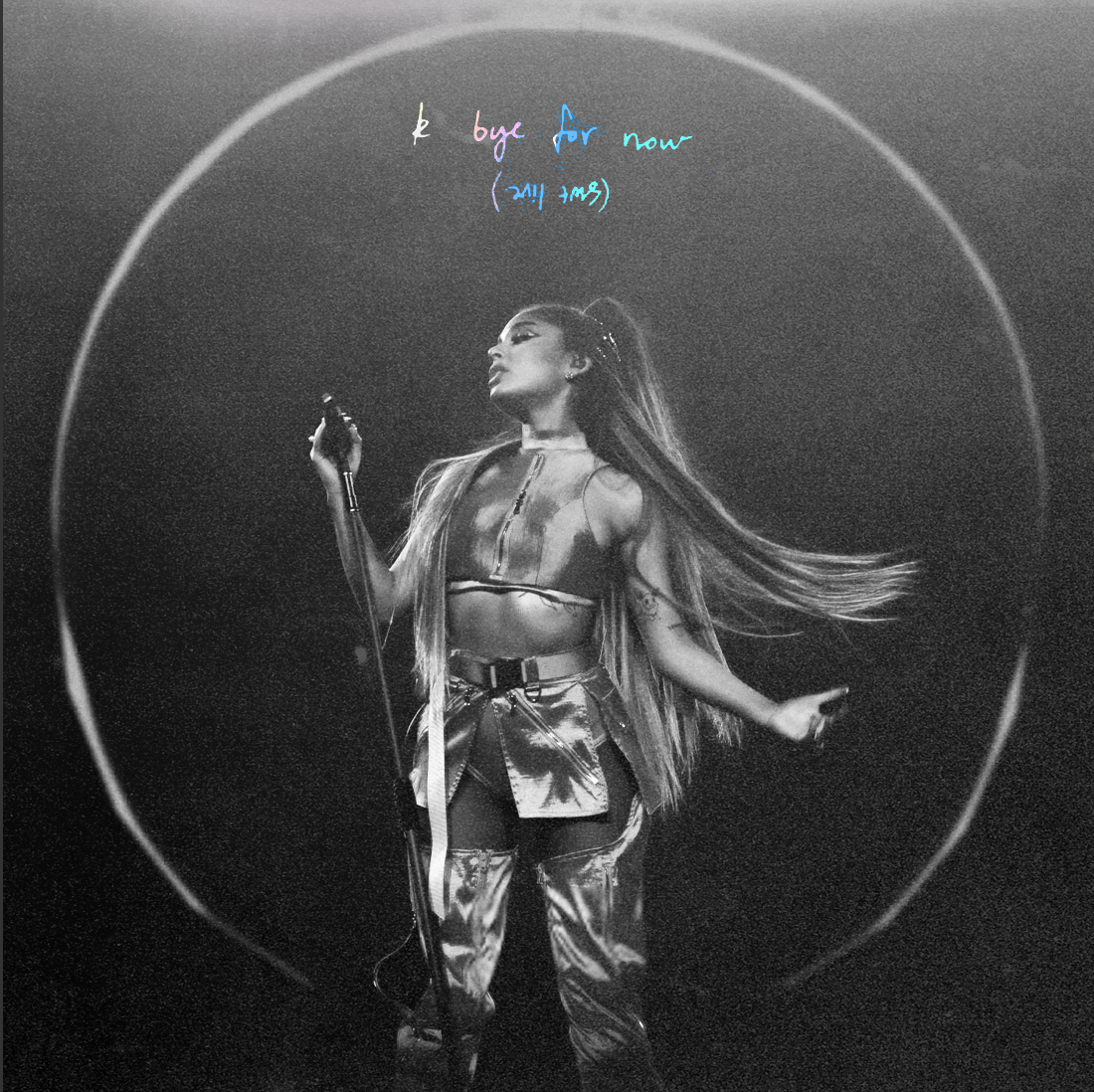 Concept was based on the "confetti and rainbow heaven" theme of her tour. To express this, I chose a holo theme.



Album features
3 x LP picture vinyl

tour poster
tour book
goodies (stickers + scratch art paper)
Photography credit:
Kevin Mazur


I chose b&w for the cover so when you open it, it'll show a burst of color.

You also get a hint of what's to come with the holographic type on the front and back. The edges of the album are also in holo.

***

Gatefold
Features holo on "No Tears Left to Cry" set (pictured right).

Edges on inside of album are also in holo.
Full gatefold

Sleeves + vinyl

(Rows read left to right)
Top row: LP 1—side 2, LP 2—side 2, LP 3—side 2,
Middle row: LP 2—side 1, LP 2—side 1, LP 3—side 1,
Bottom row: inner sleeves
Vinyl art is based on the tour's backdrops!

Normally, I'd display the sleeves on top. But since Ariana's branding usually features things upside, and elements that break free the norm, I felt it made sense.

Also, when you watch the tour, Ariana is underneath the moon, the sun, the galaxy, etc. So, it makes more sense visually having the sleeves on the bottom.

***

Extra goodies


Left: tour poster
Middle: holographic moon sticker pack + rainbow scratch art
Right: tour book (The stars on tour book are also holographic)
Full vinyl set
---
Eden
"Good Morning"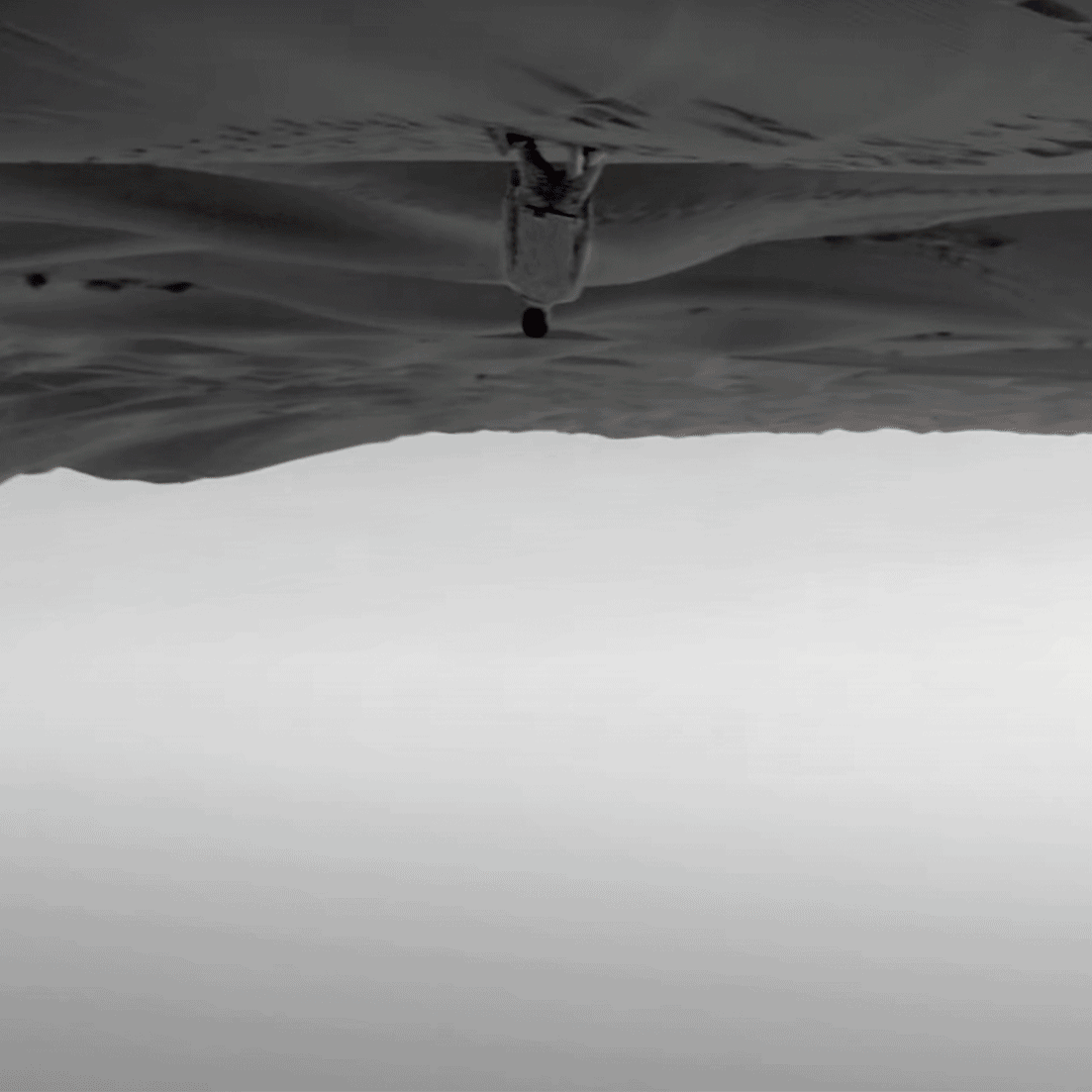 Concept based on
music video.
The album is printed with photochromic inks. So, when it's is exposed to sunlight, the cover and gatefold will turn full color.
This is because EDEN has a lot of hidden messages in his work, and I wanted to show through the packaging. In a way, you're telling the album "good morning."
(Left: album before being exposed to sunlight. Right: album after exposure to sunlight)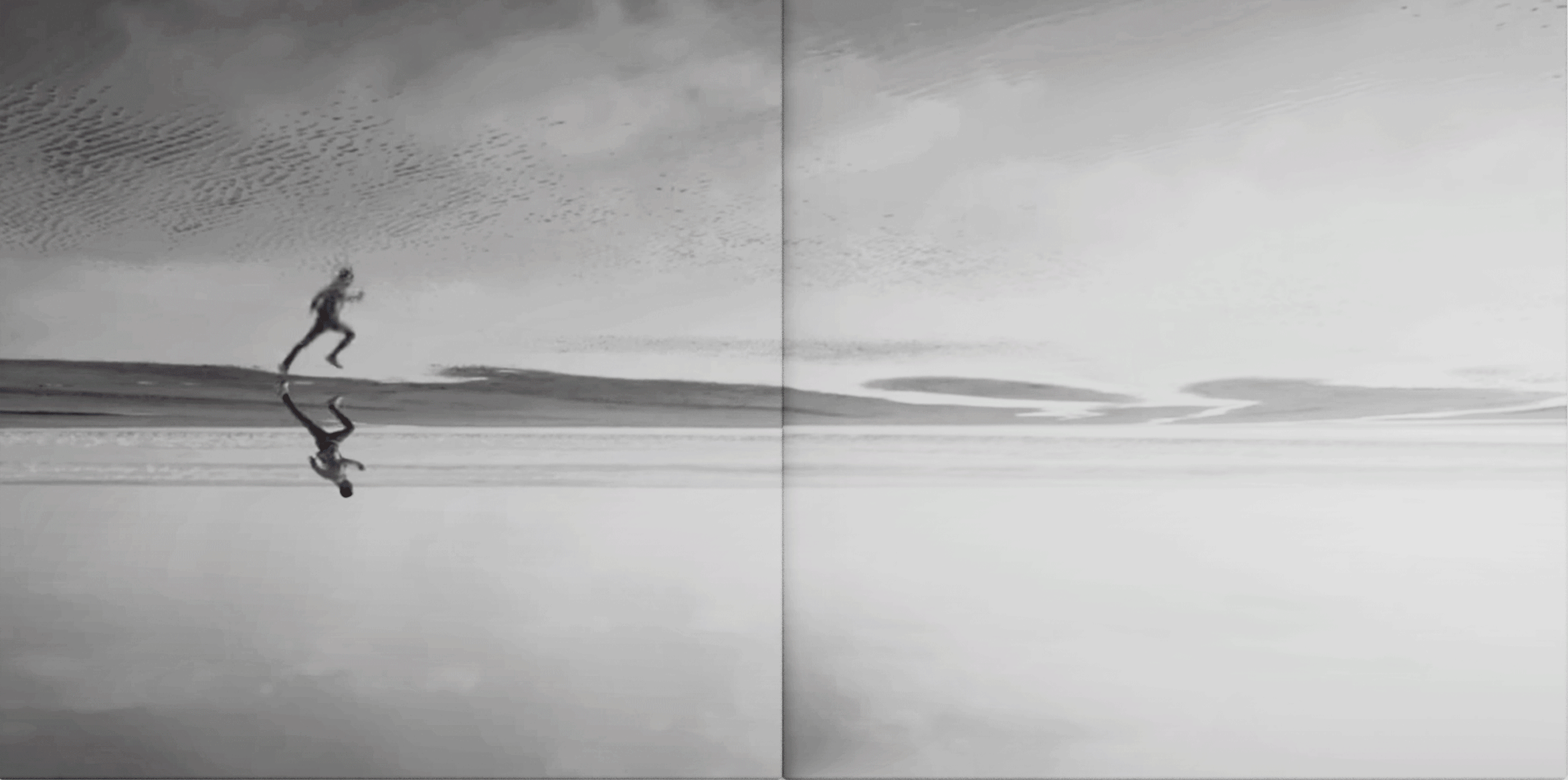 Top: gatefold before being exposed to light
Bottom: gatefold after being exposed to light.

Text says:
As day breaks mortality colors run and bleed for fear now's the only time there is and just as good night comes following follow down and seem I who watched this dissappear and out of the dark you'll find you given the time and space the world will bend to guide you
Static gatefold
Sleeve + vinyl
Vinyl
Majority of the music video features EDEN upside and in a variety of perspectives. So, I thought it'd be fitting to have him on the label and use split-color vinyl to mirror the music video's visuals.
Full layout
1st column: album cover before + after being exposed to sunlight
2nd column: album cover + sleeve + vinyl, sleeve + vinyl
3rd column: gatefold before + after being exposed to sunlight, vinyl
---
Harry Styles
"Watermelon Sugar"
Concept based on
music video.
Most of the concept was trying to give the album a fun, nostalgic feel. Most of the editing went into color correction and lighting to suit the theme.
Back cover
Gatefold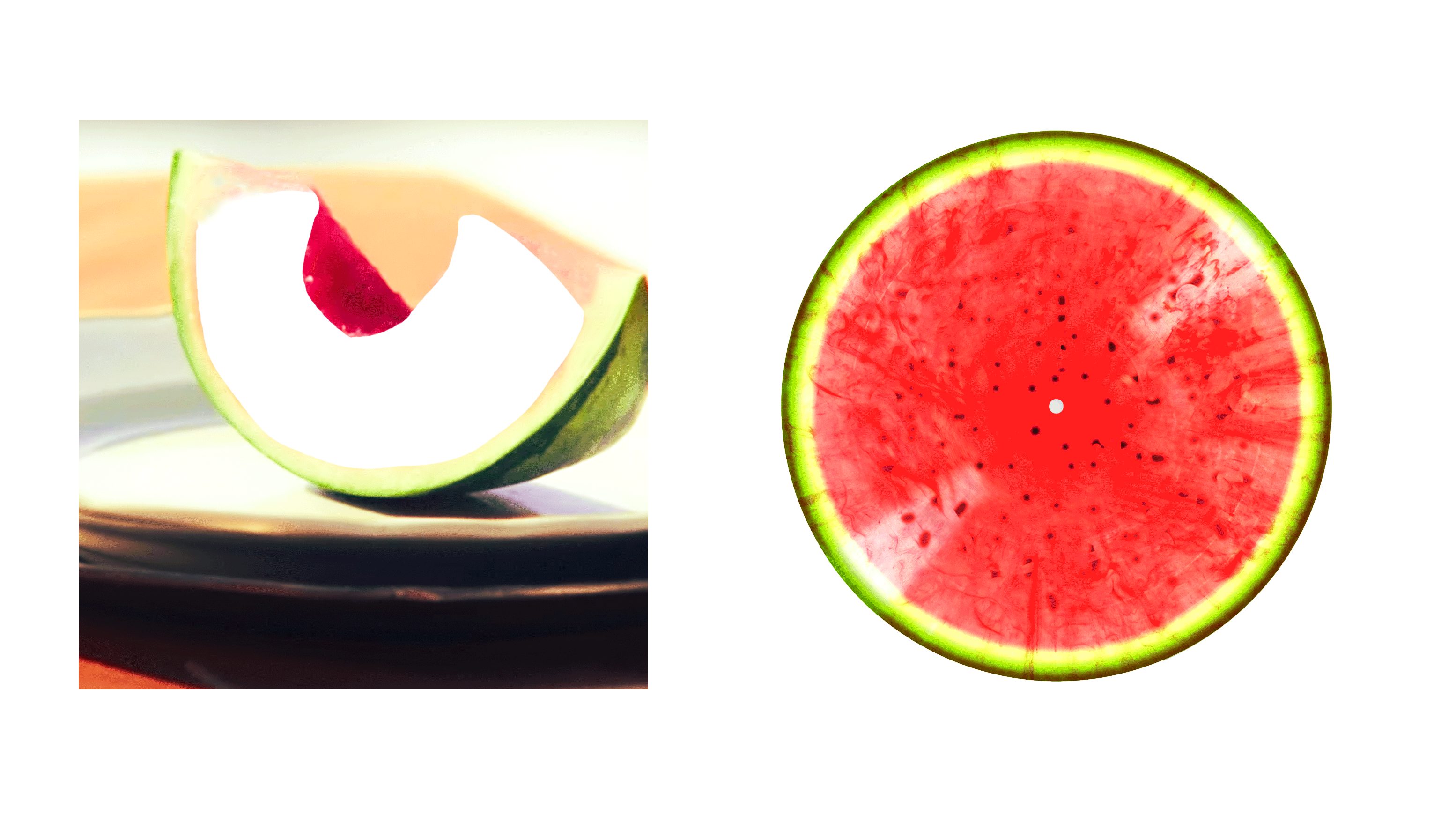 Vinyl going into sleeve (sleeve has diecut of watermelon shape, so it's a seamless transition when the vinyl slides in/out)

Most of the design work here was making the cutout, and color correcting the image so that the watermelon on the sleeve and the vinyl looked cohesive.


7" split color vinyl with black speckles
Extas: polaroids for the nostalgic feel
Full layout
---
Simple Creatures
"Strange Love" [Single]
Concept was based on the
music video.
Many of the visuals were glitchy but that's difficult to translate into the physical space. So, I centered my concept around color-changing paper and materials. That way, you still simulate the glitch effect, while also having some fun color interactions!
In addition, most of Simple Creature's marketing prominently highlights Alex Gaskarth and Mark Hoppus. That made this a challenge to try to give equal visual importance to the both of them.
Album features
color-changing art
1 x single

a limited edition zine
This album is black and white. But when you touch it, the thermochromic paper activates. This effect emulates the music video.

These are three possibilites out of many!
(variants are for demo purposes only)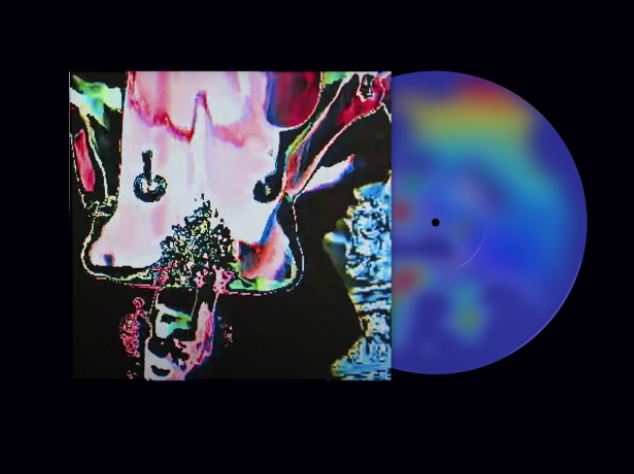 Gatefold
This also uses thermochromic paper on the silhouttes of Alex and Mark to emaulate the music video.

Vinyl
This record is only a single. What makes it special is how the record functions like a mood ring!

It's made of glass and filled with thermotropic liquid crystals. Pictured below are three possibilites out of many!
Bonus content (a short zine)
Top row: zine cover, back cover, full cover spread. Beneath covers are the pages.

I felt a zine was fitting since it's punk and both artists come from pop punk bands. Plus, zines make the glitchy photography into something tangible. A lot of the imagery reminds me of experimental photography too! So, I felt it was fitting.
Full vinyl set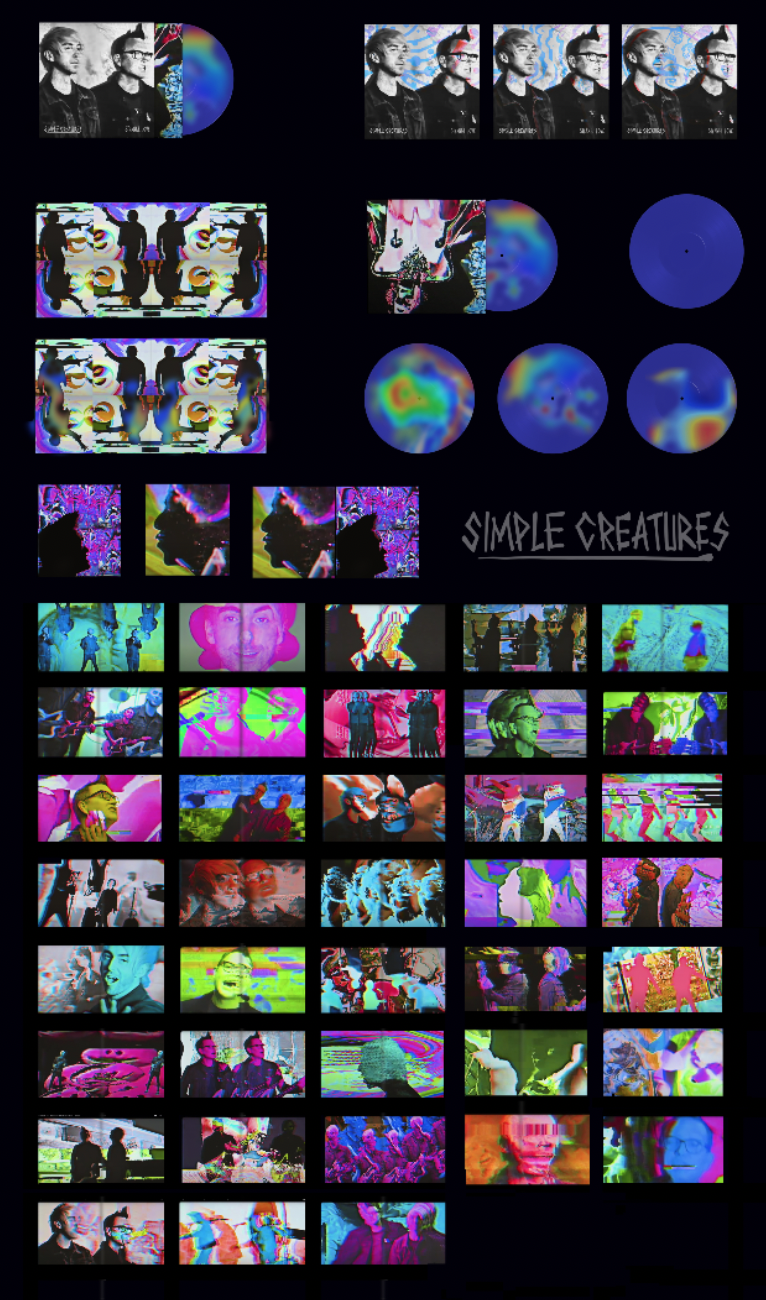 ---
100 gecs

"Hand Crushed by a Mallet" remix [Single]
Following the
music video,
the album concept art is based on low-res videogame. Part of this manifested through effects such as moving characters, holographic elements, and creating a sense of depth.
The cover's typography and border are embossed. Mouse is holographic. Doorway is a diecut and shows a peek of the gatefold.
***
Gatefold
As you open the album, the mushroom man and mouse slide to the left (in the music video, they're chasing each other).

Gatefold also features lyrics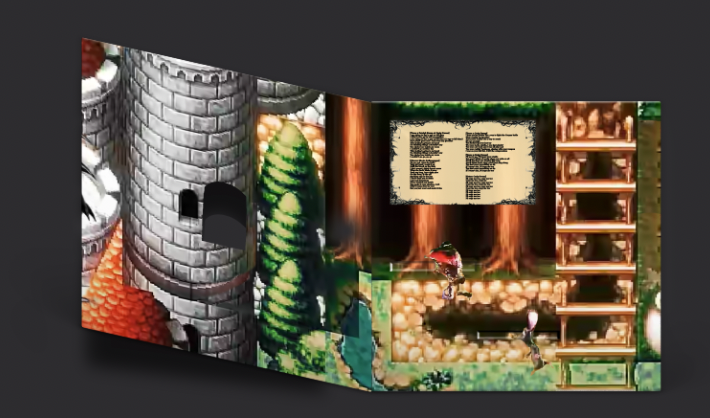 Inner sleeve + vinyl

Label on vinyl has holographic stickers for the sparkles on the key


Stickers!
Full vinyl set
---
Machine Gun Kelly
"forget me too ft. halsey" [Single]
Concept is based on the
music video,
such as MGK cutting an 8-ball off his back or seeing into each musician's eyes and seeing their partner.
Since the video's focused on duality, I wanted to capture that in the design.
Album features
2 packaging variants
1 x splatter vinyl
Instead of seeing an 8 on the back of the 8- ball, I chose to use the "XX" that MGK has tattooed. It means "that everyone stands together, regardless of race, gender or religion."
In the music video, when you look into each musician's eye, you see the other. Ex: if you look into MGK's eye, you see Halsey—and vice versa. So, the splatter paint design emulates that effect.

B side is the acoustic!
***

Packaging variant 1: Halsey

The inner sleeve has MGK, the moment before you zoom into his eye.

Gatefold features lyrics, and Halsey floating inside MGK's eye (it makes sense in the music video).
---
This is MGK merch for his pop punk era.

Skatedeck features the iconic XX, pink guitar, snake, and stickers.

(Sticker art is from his lyrics and music videos, movie, and latest single "love race ft Kellin Quinn")
"Bloody Valentine" jacket
Patches feature art from "Bloody Valentine's" music/lyric videos.

I chose a denim jacket since it's recalling the punk era. The pearls on the collar reference MGK's penchant for pearl necklaces.


---